Mounted Unit Bearings
Mounted unit bearings, or pillow blocks, are used to stabilize the external rotating shaft. They are also used to support the shaft. mounted unit bearings come in ball and roller styles, as well as with split or solid housing. They can also be made with a tapered or cylindrical bore design.
It is possible to use these types of bearings on any type of surface: vertical, horizontal, or inclined. Mounted/pillow block bearing units don't require you to buy and put together a lot of different parts, which saves time and money.
Mounted units give people a wide range of applications and services. Ball or roller bearings are often used in a mounted unit. They are usually set into a case. Both the bearings and the housings can be made of chrome or stainless steel (cast iron, thermoplastic, nickel plated or stainless steel).
They are available for shafts ranging from 12″ to 4-15/16″, as well as in metric versions. These units, which are commonly used in both light and heavy-duty industries ranging from automotive, agriculture and packaging to conveyors on a food processing line, can be configured for any type of bearing, including normal ball bearings, roller bearings, and even split bearings for easy mounting.
Mounted units are often shielded to keep pollutants away from the bearing seal because they are used largely in high-use applications and settings; non-lube and re-lube options are offered. These sealer and lubricant alternatives are especially handy when installing devices in difficult-to-reach regions.
Mounted bearing types
Types of Mounted Units and their applications mounted units come in a variety of configurations; the best configuration will depend on whether the bearing is parallel or perpendicular to the surface. The number of holes utilized to secure the device to the surface may also differ. Mechanical Power provides a variety of mounting units that are well-suited to a variety of heavy-duty applications.
The following sections detail the key characteristics and benefits of our pillow block, flange block, and hanger block mounted units.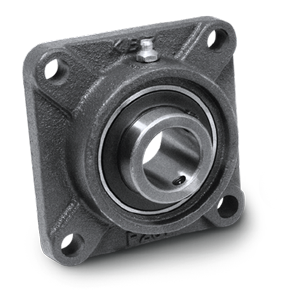 4-Bolt Flange Unit
normal, medium or light duty cast or ductile iron housing
standard or narrow profile series
set screw or eccentric collar shaft locking method
narrow or wide inner ring bearing
shaft sizes: 1/2 to 4″ (metric to 100mm)
The selection of the proper sort of mounted unit is critical to the success of any industrial project. Mechanical Power mounted units are available to help our customers through the mounted unit selection process.
Mounting bearings are the finest alternative for providing load support if you want a straightforward, convenient solution. Our range of mounted unit bearings can help your equipment run efficiently.
Sourcing Bearings from Around the World!
We'll work closely with your team to assess unique demands and identify the best solutions for your job. Contact the team today to discuss mounted unit selection for your application.