Your Trusted Source for Quality Pintle Chains
Pintle Chain is made up of a single barrel and link casting. Each casting is then linked together with a steel pin to make a chain. When compared to conventional chains, the castings and links give improved strength, allowing for a wider range of applications. To provide optimal strength and wear resistance, all chain components are heat treated.
Pintle chains are one of the oldest types of chains in use, and their basic yet effective design has made them a popular choice for a variety of purposes for than a century. Pintle chain is divided into various classes, ranging from 400 to 900, each with its own set of properties designed for specific industries and uses.
All of our steel and cast pintle chains use the most up-to-date production procedures and features to provide you with the highest quality pintle chain available. Pintle chain sprockets, attachments, and more are also available.
Pintle Chain Classes
The benefits of using a pintle chain depend on the type of chain and the way it is used.
400 Class
The 400 class pintle chains can be used in the same ways as steel detachable chains, but the sprockets don't need to be changed. They can also hold much more weight than steel detachable chains. This class is also made of cast steel alloys that can handle corrosive and abrasive environments. Our 400-class pintle chains come standard with stainless steel cotters.
600 Class
Pinch chains in the 600 class are strong and come at an affordable price. They are also made with an open barrel that keeps materials from getting stuck in the chain. This series can also be used in abrasive environments.
700 Class
The 700-class pintle chains offer a lot of support and capabilities when it comes to moving or driving over long distances. Carbon steel, cast steel, stainless steel, and non-metallic plastics can be used to make these chains. They are used in sugar, wastewater, mining, and other industries.
800 Class
An 800 class pintle chain is a very strong pintle chain that is often used in mining and other harsh environments. The benefits of these chains come from their special design, which keeps them from breaking under high shock loads and lets them work in situations that aren't ideal for chains.
900 Class
This type of pintle chain only comes in one size. Because it can withstand rough environments for long periods of time, it is mostly used in palm oil and sugar mills.
History of Pintle Chain
When it comes to industrial techniques, the Industrial Revolution refers to the shift from old to new ones in Great Britain, continental Europe, and the United States during the era from around 1760 to sometime between 1820 and 1840 in these countries.
This transition introduced a change from manual to machine production, the development of new chemical manufacturing and iron production processes, the increasing use of steam and water power, the development of machine tools, and the rise of the mechanized factory system, among other things.
In the second part of the 18th century, a limited number of innovations were credited with kicking off the beginning of the Industrial Revolution.
By the 1830s, significant advances had been achieved in many essential technologies, which included:
Iron Making
The invention of Machine Tools
The invention of the cast pintle chain was the next breakthrough after the detachable cast chain. This chain served as the forerunner of current-designed roller chains, using a "closed barrel" construction, stronger link plates, and a steel pin or "pintle." According to the manufacturer, this chain, designed to handle faster speeds, bigger loads, and more harsh working situations, is ideal for usage in both drives and conveyors.
The development of this chain with a greater pitch by conveyor manufacturers did not take very long. Because of this, the number of joints decreased, but the amount of space available for bigger attachments or designs that are more complicated also increased.
Adding harder steel bushings improved the chains' resistance to wear, and subsequent additions like rollers that revolved around the bushing helped to reduce the amount of loading caused by sliding friction significantly. That is why Pintle Chains are also classified as Industrial Chain, Conveyor Chains.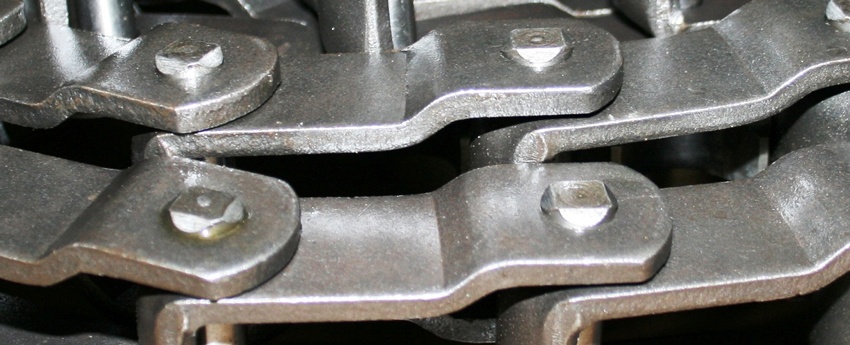 The Pintle Chain comprises a barrel and a link forged together. The chain connects one casting to the next with a steel pin. Comparatively, the castings and linking of this chain provide more strength than other chains, which opens the door to further uses.
Steel pintle chains are often utilized in spreaders, feeding systems, and spray boxes, among others. The open barrel prevents seizures, which would otherwise occur if the barrel chain were closed. Additionally, it may be used for power transmission or general transporting.
Pintle Chain Applications:
Wastewater Chain
There are more than ten kinds of pintle chains that can be used in the capacity of wastewater chain. In recent years, there has been a significant growth in interest in environmental concerns and being more "eco," which has resulted in a diversification of garbage treatment facilities and waste treatment technologies.
The design and materials used are best for conveyor chains adaptable for the wide range of harsh conditions—incinerator ash with water, molten slag.
Spreader Pintle Chains
In agriculture industry, it serves as a manure spreader, that not only exceeds in strength and durability. But pintle chains are suitable for a range of agriculture machinery applications involving the use of a spreader, including salt spreaders and manure spreaders.
The chain moves the material with the help of crossbar/slats. Precision punched holes increase load-bearing surface area and maximize the working loads.
Conveyor Pintle Chains
A wide range of conveyor systems uses pintle chains of various classes known for their great strength and extended wear life. In the design of a pintle chain conveyor, it is critical to remember that the chain is only intended to move in one direction at a time. A chain conveyor is a kind of conveyor that is used to move items along an assembly line and around a factory or warehouse facility.
Chain conveyors often transport heavy unit loads like pallets, grid boxes, and industrial containers. The configuration of these conveyors may be either a single chain strand or a double chain strand. A chain conveyor is a kind of conveyor that is used to move items along an assembly line or around a factory or warehouse facility.
Sugar Mills Pintle Chains
Pintle chains, such as precision roller chains, engineering-class roller conveyor chains, bagasse carrier chains, primary cane carrier chains, and drive chains, are developed to function under the rigors of harvesting sugar mills.
It improves harvesting rates for sugar mill-related processes by using a mix of carbon and alloy steels to provide the best chain life possible and extra alternatives such as stainless steel, chrome plating, and nickel plating for specialized service.
Did You Know?
For more than forty years Mechanical Power has been supplying high-quality
Steel Pintle Chains at competitive prices from around the world.
We are best known for sourcing dependable, high-strength, steel pintle chains
at unbeatable prices.
Maximize efficiency of your equipment.
Take the hassle out of global sourcing.
We will help you select the right pintle chain for your application.