Industrial Roller Chain: The Perfect Solution for Your Heavy Duty Machinery Needs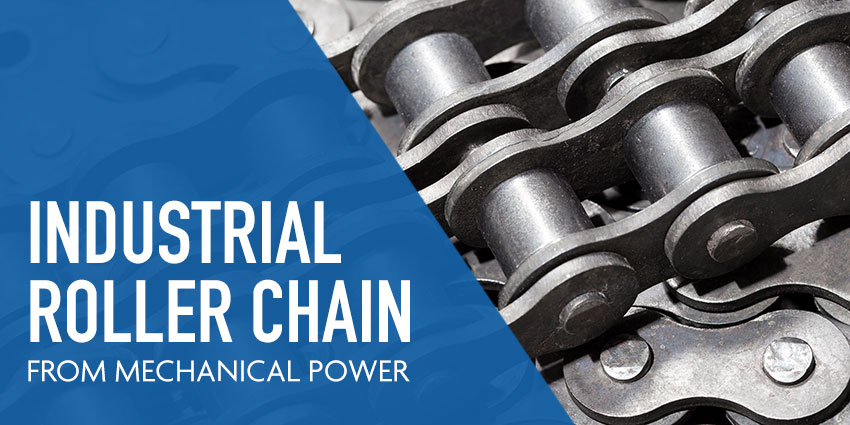 In the industrial sector, industrial roller chains are crucial for effectively transferring energy between various equipment components, ensuring that energy waste is minimized as much as possible during the procedure.
Due to their great strength ratio and efficiency at transferring torque beyond a distance, roller chains are a crucial component of agricultural, heavily loaded, and residential machinery. Vehicles, material handling equipment, other industrial machinery, and other types of machines that transmit power can all use roller chains.
With their distinctive shape, industrial roller chains offer a simple, practical technique for transferring mechanical power in industrial equipment. Roller chains can increase manufacturing output irrespective of size and applications, whether heavy-duty gear or lightweight conveyor systems. These chains significantly lessen the turbulence between machine parts, which leads to less damage and lower replacement costs.
The Material Used In Roller Chains
Roller chain is normally manufactured of carbonated carbon or carbon steels. However, stainless steel is occasionally used in machinery for food processing or other areas where lubrication is an issue, along with nylon or brass.
Working On Roller Chain
Roller chains are driven by a motor that drives the chain on a spinning gear. For roller chains to function, two different types of links must rotate. Two inner plates are joined by two plates or bushings, which are positioned beneath two rollers. Inner links are also referred to as roller links.
Two outside plates are connected by pins to form outer links, which pass through the bushings of internal links. The chain is moved by a motor-connected gear that rotates. The second chain end can then be attached to a portion of the load.
Types Of Roller Chains
Standard And Custom Roller Chains
Numerous types of roller chains are available in custom attached roller chain setups. Standard, metal-plated, alloy steels, plastic, and many other materials are used for custom chains. This is ideal for your factory line. Customize the chain according to your need because the custom chain is provided in endless or loose strands.

Lube-Free Chains
Use their lubricant supply and require no maintenance. They are applied when lubrication is not allowed because of cross-contamination or when availability is challenging. The most prevalent design employs a compacted bushing that covers the screw and bushing when the chain overheats. The lubricant is absorbed back into the bushing when the operation is halted. Between the connecting plates of another design are special seals.

Dual Pitch Roller Chain
A Roller chain with a twofold pitch, also known as an expanded pitch roller chain, shares the same lengths as an ordinary chain. It is lightweight, less costly, and ideal for large square distances because it has half as many pitches.

Lightweight Roller Chain
This light, inert chain is made of Polyoxymethylene (POM) plastic. Since its connections snap together, connecting links are not required. It fits printers, electronic gadgets, instrumentation devices, and other small machines and is only half as big as our smallest chain. It is intended for use with tiny sprockets.

Super Series Roller Chains
They are utilized when larger sizes cannot be employed due to weight or space restrictions. In chain terminology, they are identified by the letter "H." Roller chains from the super series can support up to 60% more weight and have a 40% higher breaking strength.

Heavy Series Roller Chains
Heavy series roller chains, designed for heavy industrial or agricultural applications, are frequently used in lift systems and elevators. Since the lateral plates are often thicker than on ordinary roller chains, they offer a prolonged wear life.

Leaf Roller Chain
Leaf roller chain—also known as cable chain or neutralizes chain—is made of link plates connected on pins. Due to a lack of gear teeth, a leaf roller chain is utilized with the main shaft. They are frequently employed as counterweight chains for machines, elevators, and forklift masts. Lubrication needs to be done correctly.
Roller Chain Parts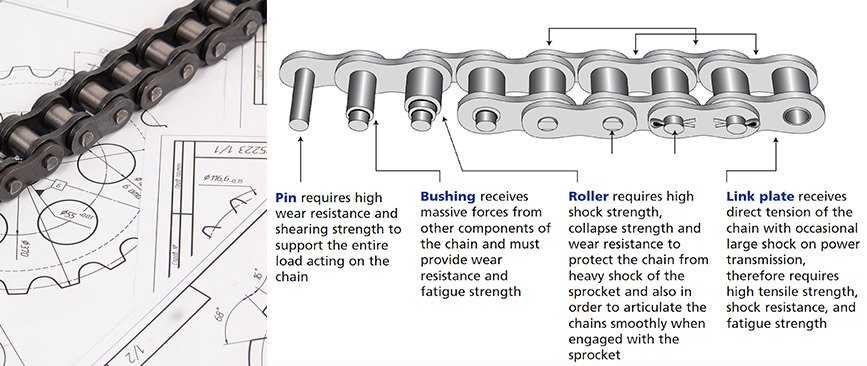 Generally, roller chains include the following parts to transmit energy effectively:
Roller Chain Bushing
As the internal plates of the roller chain are held together by bushings, they perform a crucial role. There is lesser damage on the sprocket teeth and the plates in locations where they contact the pins because the pins holding the outer plates are passed through bushings supporting the inner plates.
There are two types of bushing configurations: solid and divided. Bushings lengthen the life of the chain and enhance performance by reducing stress on the inner link plates and pins. They are made of high-strength, low-friction components. The chain must be installed and maintained correctly, and you must choose the appropriate bushing for the application to provide the longest possible service life.
Roller Chain Pins
Pins are a crucial part of the roller chain. The chain's edginess is due to the Pins. They join the roller chain's links and distribute the load over the entire chain. Because these surfaces are more susceptible to deterioration, the pins and bushing should be given the most attention when lubricating chains.
Pins and bushing give the entire assembly corrosion resistance and strength. Pins can be thermal, case-hardened, or thru-hardened, depending on the quality.
Roller Chain Roller
The link can turn freely per its gears due to the roller. For instance, unrestricted turning permits less friction during the rolling encounter when the rolling chain is connected to a toothed wheel, such as a sprocket.
Roller Chain Side Plates
Side plates are utilized to reinforce and secure the internal parts. To allow the inner and outer links to transmit the tensile load from pin to pin, the side plates largely handle the tension throughout the chain links.
Roller Chain Connecting Links
To join two straight links together, employ roller chain connecting links. Connecting links are flat with the chain's outside surface and feature a connector at either end.

Roller Chain Distributor
If you need Industrial Roller Chain for your equipment, contact your Mechanical Power specialist to discuss your specific application and determine what type of Industrial Roller Chain is right for you.
Once we determine the type of chain you need, we will obtain high quality industrial roller chain through our partnerships with top manufacturers, saving you time and money in the process.
Take the hassle out of global sourcing.
We will help you select the right roller chain for your application.