What is Contract Manufacturing?
Contract manufacturing is a form of outsourcing where a third-party manufacturer produces components or products on behalf of a company. Typically, a company initiates contract manufacturing by presenting a part design or product concept and seeking a manufacturing cost estimate, which takes into account factors like production methods, labor, tooling, and material expenses.
Engaging in contract manufacturing offers several advantages, including cost reduction, enhanced quality, and access to advanced expertise and technology. However, this approach also carries certain risks, such as reduced flexibility, responsiveness, and limited quality control.
Pros and Cons of Contract Manufacturing
Contract manufacturing is by far the most-used form of manufacturing utilized by companies across the globe in need of sourcing manufacturing services.
Contract manufacturing is a common practice in United States. It is utilized by small and large companies to scale their production to levels that would be otherwise impossible in-house. Contract manufacturing is a vital component of the manufacturing industry.
Contract manufacturers make it possible for companies and start-ups with limited resources to manufacture products. In addition to that, they provide specialized, technical manufacturing insight an in-house team cannot.
As with any operational model, contract manufacturing has significant pros as well as cons. By completely sourcing manufacturing, you can acquire budget friendly manufacturing services, but you'll also be giving away a large portion of control in the manufacturing process.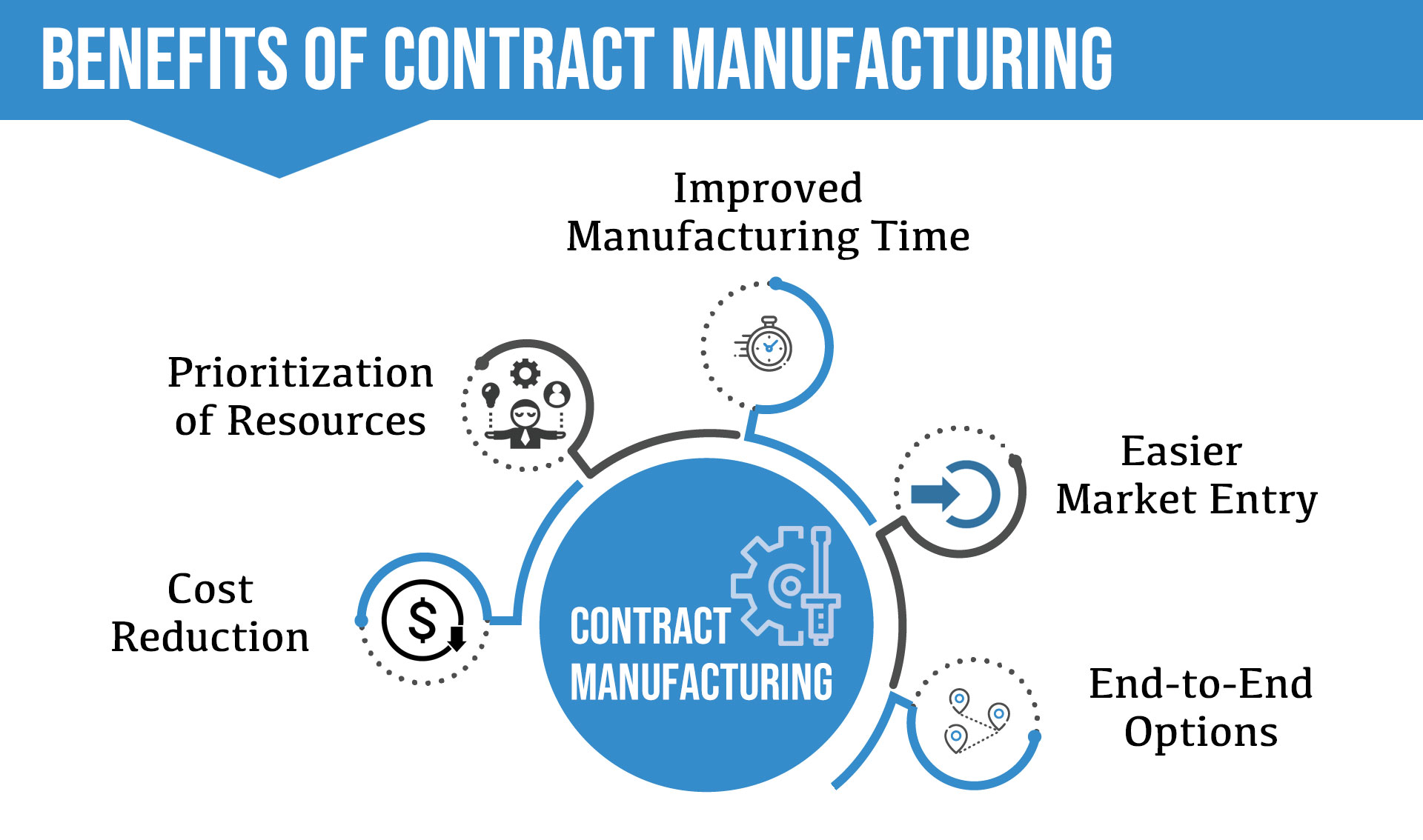 Pros
Contract manufacturing is a crucial tool for small business and start-ups looking to make their product the next big emerging technology. Here are a few more advantages this process provides:
Save on Costs & Maximize Profits
By outsourcing your product manufacture, you will not have to dedicate valuable in-house resources to manufacturing. Working with a contract manufacturing eliminates the need to juggle between vendors and helps you avoid running into unexpected costs. You'll overall reduce labor costs significantly.
By knowing exactly what your manufacturing process will cost you ahead of time, you can practice better budget control throughout the entire product life cycle.
Increased Technical Insight
Contract manufacturers also provide businesses with technical insight found nowhere else. Since contract manufacturers build products for a versatile selection of companies, they have valuable in-depth knowledge into product build for various niches.
Contract manufacturers also have the knowledge to spot potential risks and flaws within the design early on. This can prevent fatal mistakes within a product that could cost you significant funds in the long run.
More Flexibility Within Your Company
Since a contract manufacturer will completely take on your manufacturing process, you'll create more opportunities within your company.
When you choose to outsource the manufacturing process, you'll free up time for your employees to create more innovative prototypes and design additional groundbreaking products. Your employees will experience flexibility to focus on what's truly important.
Scalability
As a small business or start-up, it's difficult to scale your product with limited resources at hand. Since contract manufacturers have significantly more resources, they're more than able to scale your product.
If you're experiencing a peak in demand or seasonal decrease in demand, contract manufacturers can quickly scale production needs to whatever is necessary. With these scalable measures, you'll be able to take your product to new levels and be in control of demand fluctuation.

Cons
When manufacturing is contracted out, some quality control can be lost. This is usually only an issue when something has gone wrong, however,  there are steps that can be taken to mitigate this particular issue.
One of the best ways to mitigate concerns about a loss of quality control is to contract with a manufacturer that's easy to visit in person. A local manufacturing companies, such as Clark Engineering for example, are just a few hours away from anywhere in the United States.
Hiring a good contract manufacturing company is not easy
It's correct to say that hiring a good contract manufacturing company is hard. What's more, if a bad contract manufacturer is hired, all sorts of things can go wrong:
Random fluctuations in the delivery of promised product
Sudden and inexplicable shutdowns that are highly disruptive
Quality problems
Conflicts about pricing and cost adjustments, raw material quality concerns, and so on
Ask tough questions and make sure your company has covered all the bases
Limited control
Being stuck in a contract with the wrong company
Competitors trying to hire the same top contract manufacturers
Displacing employees in your own company
Unutilized resources within your own business
Contracting out manufacturing has a lot more pros than cons, keeps your business as flexible as possible, maximizes profits, and eliminates a load of headaches.
Contract Manufacturing Example
Global supplier in the automotive OEM industry contracted with Clark Engineering. Clark agreed to fabricate automotive fastener on a contract basis for the supplier's auto components.
Clark Engineering was able to serve the client's "Just in Time" needs with speed, engineering expertise, and automation capacity. This provided business for Clark Engineering and maintained the standards and reputation of the client.
This article outlines contract manufacturing in a great detail. If you have additional questions, be sure to read more about MPI, and contact us for all of your sourcing needs. We're happy to discuss the parameters of your next parts manufacturing project.
Resourceful and innovative Marketing Pro, with 20+ years of progressive experience in the marketing and creative technology industry. Responsible for digital and traditional marketing efforts that promotes brand awareness, increases engagement, and drives revenue.