Over the years, freight forwarding has become a popular and practical approach to international transport. Whether it's personal or commercial use, freight forwarding firms coordinate the shipment from one location to another.
At Mechanical Power, we handle the entire logistics operations process. Monitoring container location on a truck, railway freight or a ocean freight allows us to keep our customers informed. 
Freight forwarders use various carriers like ocean freight, air freight, road freight, and railway freight. If you're not part of the freight world, then the freight forwarding process may come across as complicated.  You may not realize it but freight forwarders dive into a multitude of elements when it comes to planning international shipping.
Purpose of Freight Forwarders
Typically, freight forwarders take care of international shipping details. Of course, freight forward is not responsible for moving freight on its own.  Instead, the freight forwarder plays the role of an intermediary between the transportation service and the shipper.
Moreover, a freight forwarder makes the most out of established relationships with trucking companies, air freighters, ocean liners, rail freighters, and other carriers to negotiate the most suitable price of shopping goods. In most cases, an economical route translates into an economical rate from carriers.
But it all boils down to bids and freight forwarders select a bid that offers viable cost, reliability, and efficiency. Freight forwarders take care of various logistical aspects when it comes to shipping goods across borders.
Ordinarily, this kind of task can overburden a client and prove to be quite formidable.  But freight forwarders make the process of shipping goods throughout the world easier, simpler, and faster. One of the many responsibilities of the freight forwarder is to comply with shipping requirements and export documentation.
In fact, most exports avail the services of freight forward as a shipping agent. It means the freight forwarder assists and offers expertise to clients on various shipping tactics that might be suitable to clients' needs.
Remember that a freight forwarder has extensive knowledge about current regulations, required documentation, banking practices, and transportation costs. This accumulated information and experience allows freight forwarders to make the exporting process seamless.
Freight Forwarding Rules and Principles
The principles and rules of modern freight forwarding revolve around the cost-effective and efficient transfer of international goods. Expert freight forwarders deal with logistics to ensure prompt arrival of goods. When it comes to successful shipping and trade in global markets, freight forwarders make sure they have the right information and tools to ensure shipping goes without issues.
Many clients depend on freight forwarders to deal with customs regulations, negotiate tariffs, and take care of all the shipping requirements for air, sea, land, or rail freight. A freight forwarder takes into account the benefits and risks of shipping in domestic and international terrains.
Technology and Freight Forwarding Process
With the advent of information technology, freight forwarders use modern tech tools to evaluate data and monitor the process of shipping goods. In a traditional sense, freight forwarders follow a straightforward process.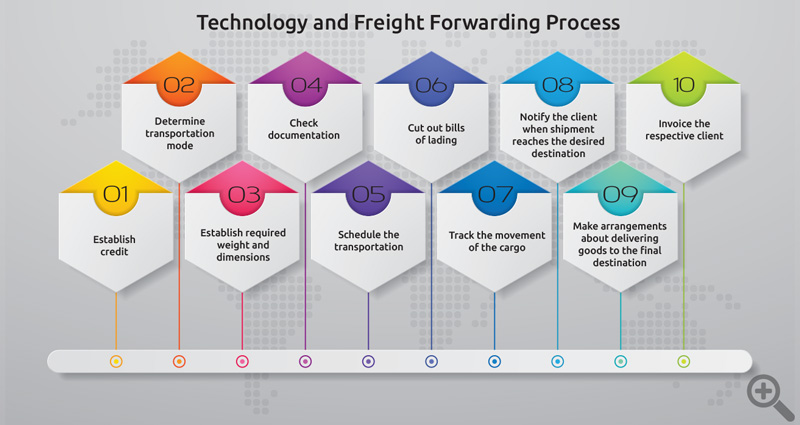 Successful Navigation of Freight Forwarding Landscape
Overall, it takes skills, knowledge, and a tactical approach to navigate complicated freight forwarding regulations to ensure the successful shipment of goods. Successful delivery depends on more than just a few parameters. Established freight forwarders forge valuable relationships with market leaders to make the delivery process effortless for clients.
In fact, freight forwarders rely on the right people who can communicate and make a commitment. The objective of freight forwarders is always to live up to the expectations of customers and leave a positive impression. The delivery of goods to the final destination has to be prompt and in an efficient manner.
In terms of supply chain management, clients depend on freight forwarders to take care of stacks of important documents. In a traditional sense, these documents can include bills of lading, letters of credit, customs documents, inventory reports, etc. Freight forwarders also have to process and verify documents like customs invoices, commercial invoices, permits, carrier waybills, and certificates of origin.
Today, customs brokerage establishments realize and recognize the efforts of freight forwarders. In fact, customs brokerage organizations now make sure their staff is up-to-date about modern freight practices and develop a perfect shipping experience for valued clients.
Of course, regulations and logistics can create various complicated issues for freight forwarders. So, customs brokerage firms choose freight forwarders that can be trustworthy and overcome challenges that involve shipping goods on a domestic or global scale.
Importance of Freight Forwarders in 2021
In 2021, it is a standard procedure to use the reliable service of a freight forwarder. Technically, you don't "have to" opt for a freight forwarder to export or import goods. But the fact remains that importing and exporting process is daunting and involves a lot of documentation and regulations.
And this is where the role of a freight forwarder becomes quintessential. After all, a freight forwarder understands the modern shipping practices, industry, dynamics, and each country's requirements to ensure flawless shipping.  In essence, freight forwarders possess extensive knowledge about different countries' customs laws, required documentation, and shipping processes.
Final Thoughts
Whether it's negotiating, scheduling, inventory management, or documentation, freight forwarders touch on each integral aspect of shipping goods and ensure a flawless delivery process. Most clients are surprised to find out how much time and the potential cost they can save by hiring the services of a freight forwarder.
In a competitive age, freight forwarders have become assets to companies that handle international transport of goods. A dependable freight forwarder is well-versed in international shipping processes and in-house resources.
Resourceful and innovative Marketing Pro, with 20+ years of progressive experience in the marketing and creative technology industry. Responsible for digital and traditional marketing efforts that promotes brand awareness, increases engagement, and drives revenue.