What is eProcurement?
Procurement, alternatively referred to as electronic procurement or supplier exchange, is the process of purchasing and selling supplies, equipment, works, and services using a web interface or other networked system.
The technology is intended to consolidate and automate interactions between a company, its customers, and other value chain partners in order to improve procurement procedures' speed and efficiency.
It has a slew of novel features aimed at increasing procurement efficiency, effectiveness, and total cost of ownership.
eProcurement began in the 1980s with the development of electronic data exchange (EDI). EDI enables the sharing of data and documents amongst business associates and was groundbreaking at the time. Businesses were no longer required to transmit documents physically; they may instead send them electronically.
In the context of procurement, EDI facilitated the exchange of purchase orders and invoices between customers and suppliers via call-forward networks, which was subsequently supplanted by email.
eProcurement History
Later in the 1990s, EDI was enhanced as organizations built vendor-specific online catalogues.
In its current incarnation, eProcurement encompasses both activities associated with evaluating and selecting suppliers, such as eAuctions and eTenders, as well as the products and services purchased from these vendors, such as electronic orders and supplier catalogues.
The Advantages of Electronic Procurement
eProcurement has numerous advantages for your firm, the most frequent of which are given below:
Automates time-consuming tasks
Tasks such as auctioning purchase orders and document management for purchase orders, evaluating and selecting suppliers, conducting price negotiations, agreeing on and storing supplier contracts, and more can all be automated between an organization and its suppliers to increase the speed at which business is conducted and free up staff for other tasks.
Improved procurement procedures
This enables self-service and decentralization while maintaining control via company-approved catalogs, as well as more frictionless processing of employee requisitions (the purchasing of products and services) and supplier payments.
Visibility of your purchasing behaviors
eProcurement provides visibility into your organization's spending. This data is priceless and will assist you in controlling non-compliant (or maverick) spending, identifying areas for supplier consolidation, and leveraging purchasing power to negotiate cost savings.
Connecting external supply networks and ERP systems
Real-time data can be transferred between ERP or financial systems and supply chains to provide a consolidated view of supplier information and transactions.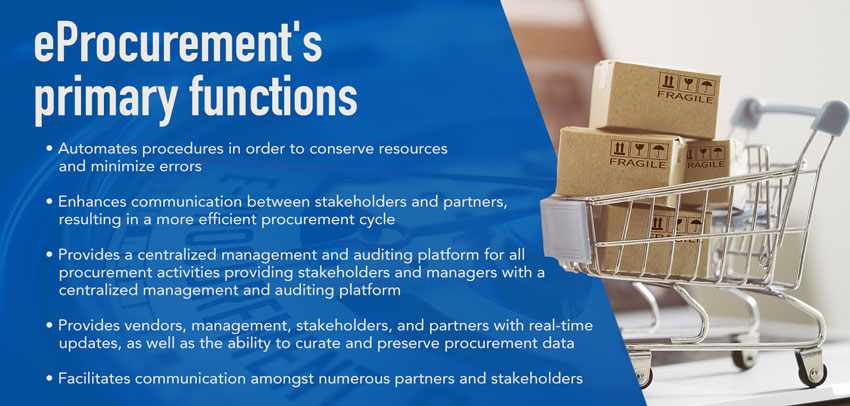 What are the most widely used eProcurement tools?
Numerous tools and methods are employed in the field of eProcurement, including the following:
System of electronic data interchange
Between electronic devices, an electronic data interchange (EDI) is utilized to communicate data and information. EDI enables the transmission and storage of messages and information from partner organizations, improving billing and order logistics.
Applications and platforms for the Internet
Businesses use a number of eProcurement tools and web platforms to streamline daily operations, including eSourcing, eTendering, eAuctioning, and eOrdering. Email is also heavily used, as is XML-based data transport.
Tools for electronic ordering and purchasing
Significant purchasing tools include a web-based ERP and digital procedures for eAuctions.
What are eProcurement's primary functions?
eProcurement's key duties are extensive, providing a range of benefits for a business's day-to-day operations and supply chain activities. The following table summarizes the primary purposes of eProcurement for businesses:
Automates procedures in order to conserve resources and minimize errors
Enhances communication between stakeholders and partners, resulting in a more efficient procurement cycle
Provides a centralized management and auditing platform for all procurement activities providing stakeholders and managers with a centralized management and auditing platform
Provides vendors, management, stakeholders, and partners with real-time updates, as well as the ability to curate and preserve procurement data
Facilitates communication amongst numerous partners and stakeholders