Slewing Ring Turntable Bearings

What makes this piece different, is a rotational rolling-element bearing that typically supports a heavy but slow-turning or slow-oscillating load, often a horizontal platform such as a conventional crane, or the wind-facing platform of a horizontal-axis windmill.
Specifications
Clearance
Dimensions up to 60″ OD
Four-point contact ball
Flanged cross-section on non-geared rings
External gear

Applications
Energy Technology
Machine Tools
Special Vehicles and machines
Mobile Cranes
Mining Equipment
Tunnel Boring
Material Handeling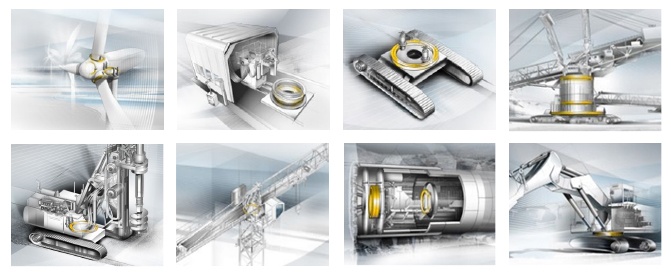 Industries Served
Stacker Reclaimer
Bucket Wheel
Spreaders
Ship Loaders & Unloaders
Medical Applications
Cardiovascular Machines
Diagnostic Table
Medicine Production
Water Treatment Applications
Water Treatment Stations
Water Treatment construction
Offshore Applications
Offshore Cranes
Bulk Handling
Marine Cranes
Precision Applications
Machine tool Applications
High Precision
ABB Robot
Gearbox
Forest Applications
Logging Machines
Forwarders
Feller-Buncher
Excavators
Packaging and Bottling Applications
Filling and Sealing Machine
Capping Machines
Labeling Machines
Handling Applications
Automated Handling Machine
Big Cranes
Big Forklifts
Construction Applications
Cranes
Excavators
Backhoe Loader
Hammer/Breaker
This part is an interchangeable replacement for these common bearings:
Silverthin™ SK6-22EZ / Kaydon RK6-22E1Z / Rotek L6-22E9Z
Mechanical Power distribution facility and headquarters are ISO90001:2015 certified. Our manufacturing partners have at least ISO9001:2015 accreditations, however we put strong emphasis in our key manufacturing partners being TS/IATF certified.
Take the hassle out of global sourcing.
Order your Slewing Bearing Rings Today!